Facilities
The Chemical Lab of Department of Mining and Geology is equipped with following state of the art facilities:
Atomic Absorption Spectrophotometer (PerkinElmer- USA)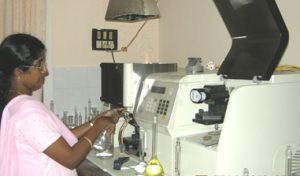 This instrument is used for analysis of metal ions like Nickel, Silver, Zinc, Chromium, Lead, Manganese, Titanium, Tungsten, Gold, Copper, Calcium, Magnesium, Aluminium, Bismuth, Barium, Sodium, Potassium, Iron, Silicon, Vanadium, Lithium, Palladium, Strontium, Molybdenum Crusher and Pulveriser . Any solid sample can be crushed and pulverized to 10-50 micrometer size.
Sieve Analysis
The following sieves of ISO standard are available in the laboratory. 40 µm,  45 µm,  50 µm, 60 µm,  63 µm,  75 µm, 100 µm, 125 µm, 150 µm, 180 µm, 200 µm, 250 µm, 180 µm, 200 µm, 250 µm, 300 µm, 500 µm, 600 µm,1 mm, 1.18mm, 1.7 mm, 2 mm, 2.36mm, 2.8mm, 3.35mm, 4 mm.